For 10 years running I have been responsible for playing and providing 2 bands for Canada's largest Whisky Show.
The Spirit Of Toronto is held at Roy Thompson Hall and has been a huge success.
This is a thank you note from the producers.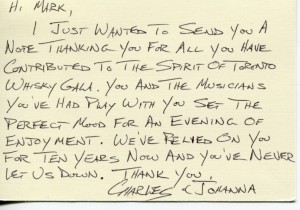 ---
A listener who heard a track that I was on, on Jazz.fm:
Mark,
Had a great musical moment today. I was listening to PJ Perry play Parker's Mood while I was driving in the car. I started singing the guide notes and was doing not too badly; in fact, I was feeling pretty fine about it. The piano player started playing big voiced chords on the third chorus, and I thought, "hmm…reminds me of Mark". And then after the head out, the announcer said, … "and Mark Eisenman on piano.".  Ha! Nice session!
-T.G.
---
MY REPLY
Hey T.G,
Thanks … you made my day.
There's nothing better that having someone tell me that they recognized my playing without realizing it.
I have always maintained that we can't help but sound like ourselves, so the endless quest for 'originality' is a mugs game.
We all (each and every one of us) are originals, we just need to get the hell out of the way of the music and play well.
When someone like yourself relays a story like you did, it proves the point.
Thanks for telling me…
Mark
---
HIS REPLY:
Mark,
In due time I'll be able to identify your playing within the first few bars of a tune. I can unfailingly hear TC. Professionals have a signature.
TG